one of the most beautiful places in St. Marienthal
Calvary
Station hill / Calvary
The Station hill / calvary of St. Marienthal is located in the immediate vicinity of the monastery above the monastery tavern. It is the only completely preserved Station hill / calvary in eastern Germany.
The Station hill / Calvary is an outdoor Way of the Cross. In a series of 14 pictures, the suffering and death of Jesus Christ are depicted.
From the Stationhill you have the best view of the monastery complex with all its buildings. This elevation forms the south- western end of the valley of the Lusatian Neisse River, which leaves its narrow, rocky breakthrough valley here forming a sharp bend.
In 1728, Abbess Klara Mühlwenzel had a crucifixion group made of reddish sandstone erected on this elevation. Thevividly moving late-baroque figures of the Mother of God and the Apostle John stand with the Crucified in the centre on a low altar-like pedestal divided by the three figure pedestals. This crucifixion group forms the conclusion or the penultimate station of the Way of the Cross, whose other 13 stations lead up the hill diagonally opposite each other. Upright sandstone steles of baroque form bear the numbers of the stations and their painted depictions.
The Way of the Cross has a special significance in connection with a Cistercian monastery, as the Cistercians were always connected and devoted in a special way to the Redeemer suffering of Jesus.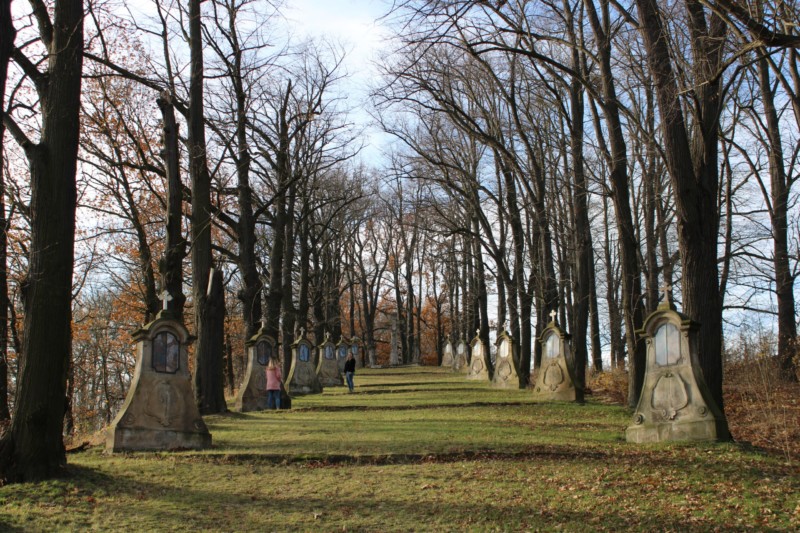 The following stations are available at a crossroads:
Jesus is sentenced to death
Jesus takes the cross on his shoulders
Jesus falls under the cross for the first time
Jesus meets his mother
Simon of Cyrene helps Jesus carry the cross
Veronica hands Jesus the face-cloth
Jesus falls under the cross for the second time
Jesus meets the crying women
Jesus falls under the cross for the third time
Jesus is robbed of his clothes

Jesus is nailed to the cross

Jesus dies on the cross
Jesus is taken down from the cross and placed in the womb of his mother
The holy body of Jesus is laid in the tomb.
Literature: Zisterzienserinnenabtei St. Marienthal. Ein Führer durch das Kloster, Benno-Verlag 1991.